August is going to be a FANTASTIC month for Everyday Reiki.
Since January, I have been sending Reiki every day for $1 a day to people all over the country. It has been a fabulous experience for me and the participants.
In August, Everyday Reiki will be joined by 7 Reiki Masters!!
Not only will you receive from me but 6 other FANTASTIC supercharged Living Light Reiki Masters. The investment for this is $30 the month.
Want more? You can sign up for 6 months at $165.
Here's what some people have shared with me:
"I received Everyday Reiki for my son to help him through his last month of college and all was smooth and he passed all his classes and tests! Thank you so much for this practice." Kevin
"I have been experiencing distant healings from Marla for the last year. This has been the best year of my life. I am clearer about my direction in life. I have less stress and tension. The reiki is soothing and loving. When I find myself in fear, the reiki energy gives me the courage to move on. I have more energy than I have ever had before and the creativity that is pulsing through me is FABULOUS! If you don't have pain or struggles, I'd still recommend distant healing with Marla, because it will help you create a life that you have always wanted!"
Cindy Livingston
I have to tell you that whatever when on during that healing has helped to no end, really. My foot hasn't felt this good in a while and I even ran yesterday. I have had only like 4 hours of sleep and I don't feel wiped out and my heart feels so much more healed and complete. Sort of wild! THANK YOU!!! Lisa G.

Reiki can help with any physical pain that you experiencing. Reiki can also support to release your old traumas, shame and guilt.
What are your healing needs?
What are your intentions?
Reiki can help!
This can also be sent as a gift for a friend or family member in need of support.
To Sign UP you must do 2 Steps PAY BELOW and REGISTER with your intention for Receiving Reiki.
LIKE IT AND WANT MORE? Sign up for 6 months
Meet the REIKI Masters who will be sending you Reiki:
I am a Living Light Reiki Master with 15 years experience as a Clinical Social Worker. Through the combination of Reiki and Social Work, I support my clients' healing; emphasizing a mind, body, spirit connection. Through life coaching, workshops, and other forms of support, I help individuals who are seeking to remove barriers and heal on all levels. As a life coach, I specialize in helping clients create work/life balance, develop effective self-care practices, wellness, overcoming compassion fatigue/burnout, provide support for empaths/HSPs and facilitate personal transformation.
Also, I offer Reiki sessions and classes/workshops for companies seeking to maintain/boost the morale of their team members and create spaces that facilitate and foster a work/life balance influenced model within their organizational structures.
https://www.facebook.com/soulblisshealing/
Donna Martley is a Reiki Master who has been changed by her experiences with Reiki and is living proof that as we empower ourselves and connect deeply with our own spirit, we can achieve healing and true peace in all areas of our lives. Her willingness to immerse herself in a lifestyle committed to self love and acceptance shows up through her Reiki sessions. Donna offers individual sessions of Reiki and Energy Balancing either in person or distally. You can reach her by email at Dlm1645@aol.com or telephone at (818) 216-4034.
Carmen Larino is a bilingual Reiki Master/ Interfaith Minister with the Center of Living Light since 2001.
She is an administrator of a Reiki Clinic at Rivington House HIV/ AIDS Residential facility from 2002- 2012. Facilitator of a weekly Reiki circle at various hospitals since 2001, presently hosts a weekly circle at the Barrio Art Space/ Sponsored by La Casa de la Herencia de Puerto Rico. Since 2001, Carmen hosts monthly classes of various levels of Reiki and seminars oneself empowerment. After 50 years as a nurse, she recently retired and currently lives in NYC. https://reikiloveforever.jimdo.com
Carmen Wolfisberg~Born and raised in Switzerland and after many years living in Los Angeles, I now call a small and quiet island in the beautiful Pacific Northwest my home. As a country girl and free spirit, I am passionate about animals, especially dogs, goats and horses. After completing my first Reiki course that was geared towards channeling for animals, I became a Living Light Reiki Master with Marla. I've been practicing Reiki to both people and animals for 10 years. Living in the woods so close to Mother Nature has added a new depth to my energy. I draw my inspiration and strength from the forest, sea and all the wild creatures that I share this place with. www.carmensreiki.com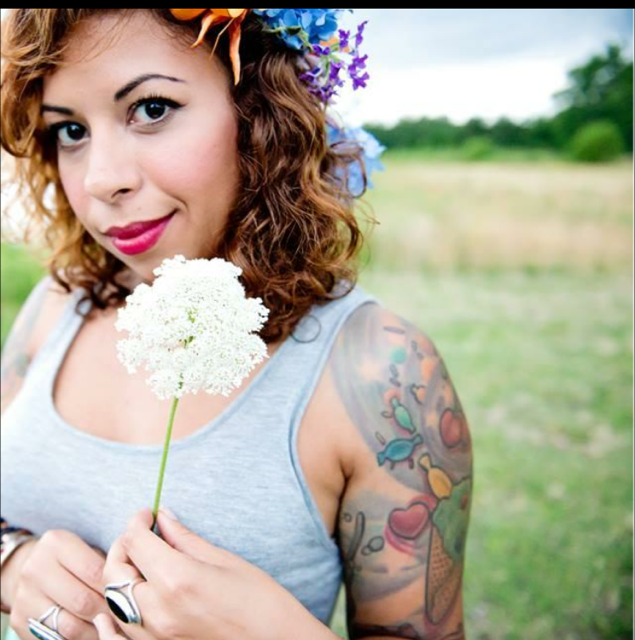 Jessie Santiago is a clairvoyant who teaches reiki and art meditation. Since 2011, She has added several new modalities to her healing tools including; guided meditation, sound healing, breath work, akashic record reviews, tarot and oracle cards, crystal work, aromatherapy, E.F.T. (Emotional Freedom Tapping) therapy, hypnotherapy, sacred haircutting, and more. She loves her work and is very passionate about constantly healing herself. She believes that is the only true way to help others.
www.JessieSantiago.com
Haydee Tanori -- a Reiki Master, Mommy, Artist, Spiritual Intuitive, and so much more!
My journey began in middle school, when I dove into the mystical arts and magical crafts -- all the deep wisdom I only read about in fairy tales and legends. I found Marla and Reiki at 19 and now, ten years later, I operate Reiki Art Love here in L.A and online; I offer myriad services and products through R.A.L's School, Ministry, and Apothecary for the beautiful integration of mind, body, heart, and spirit!
Reiki embodies for me the gentle, healing love that emanates from all of us as the Magical Breath-Spark of Life. It shows me that every day is a new adventure bursting with opportunities to embrace -- this is what keeps me tapping back into and sharing that wellspring of brilliant love and warm smiles. reikiartlove.wixsite.com/tanori-home